We're Getting Mutants in the MCU - The Loop
Play Sound
Amadee Wohlschlaeger is the fourth of the Weatherbird Artists and drew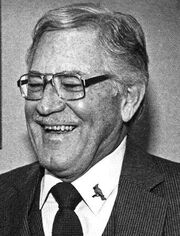 Weatherbird for almost 50 years, from 1932 to 1981. "I was doing sports art for the Post and when Carlisle died, I stayed up all night and drew 12 Weatherbirds so I could put them on the feature editor's desk the next morning. The feature editor grabbed me later in the day and said, 'You've got the job,'" says Amadee during an interview. Amadee's Weatherbirds wore big overcoats and smoked cigars (mimicking Amadee). He is credited for modifying Weatherbird's bill, but accused for making it look more like a frog. Amadee also drew the Weatherbirds on airplanes owned by the Post. When Amadee was drawing the Weatherbird, there were four or five editions a day, and he drew a new Weatherbird for each edition. Amadee was well-known as the Weatherbird artist in Saint Louis, and fans often stopped on the street to ask for his autograph or a drawing.
"I
was at the Stadium Club one time and people were lined up asking for drawings while I was trying to eat," says Amadee during an interview. "After the 10th request, I threw up my hands, and said: 'That's it. No more!'

Ten minutes later I got a tap on the shoulder from a woman who asked for just one more drawing," continued Amadee. "I said, 'Lady, if you lift up your skirt and let me draw it on your panties, I'll do it.' I was surprised when she did just that. I expected her hit me in the mouth. Later, she called me and told me that she had my Weatherbird embroidered on her underwear."
Amadee is a nationally recognized sports cartoonist and still draws Weatherbirds in
his free time for fun.